AfreximBank and Oakwood Green Africa in conjunction with Ghana Export Promotion Authority, Ghana Free Zones Authority, AfCFTA Secretariat, GCB and CBG is organizing a three (3) day Ghana Trade Road Show on Wednesday June 29, Thursday June 30 and Friday July 1, 2022 for Banks and Non-Bank Financial Institutions as well as the Business community in Ghana. This maiden event is under the theme: "Supporting the Africa Trade Agenda- Ensuring the Last Mile".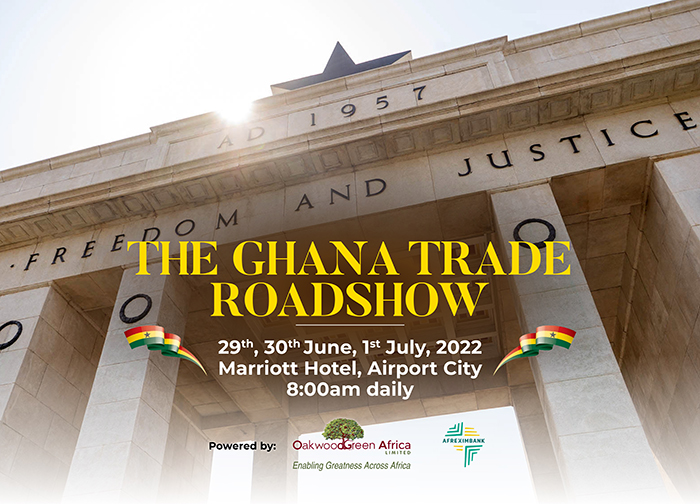 The Roadshow, in addition to promoting Afreximbank's mandate in Ghana, will seek to foster a deeper understanding of Afreximbank's products to the Banking and Business Communities and also serve to consolidate various discussions initiated with the Central Bank following the successful launch of the Pan African Payments and Settlements System (PAPSS) earlier this year in Accra. 
It will again serve as an introduction to the Ghanaian market on various funding initiatives being undertaken by Afreximbank, the AfCFTA and its partners in their bid to transform Africa's trade, and the role Ghana could play in this endeavor. Overall, the roadshow is expected to afford businesses in Ghana the opportunity to take advantage of Afreximbank's trade finance and Intra Africa trade facilitation capacity and will focus on the following key areas with an in-depth presentation on each area by the respective subject area expert:
Afreximbank's mandate, Strategic initiatives, Programmes and Facilities.


The Pan African Payments and Settlements System (PAPSS) and next steps after its successful launch.


The MANSA KYC Repository (MANSA), which is an Africa wide Due Diligence platform, the process for on-boarding participants on to the platform and the role of the Commercial banks and Non-bank financial institutions.  
                                                     
Implementation of the AfCFTA and using Ghana as the Hub for the realization of the AfCFTA's drive for the development of Value Chains across various selected sectors.


Afreximbank's Trade Finance Programme, Trade Payments services, Online banking and Financing Products for financial institutions and businesses.


Afreximbank's Intra Africa Trade Finance Facilitation and the Intra Africa Trade Fair (IATF) that brings businesses and financial institutions from all African countries together to create markets and its 3rd Edition scheduled to take place in Abidjan in the year 2023.


A presentation by the Export Development and Project Finance teams from Afreximbank specially to enable businesses leverage the Bank and the AfCFTA to tap into the opportunities presented by the over USD1.3billion African market.
The Roadshow will be programmed as follows:
June 29, 2022 for the Business Community including Executives and Members of various trade bodies and regulatory institutions.


June 30, 2022: One-on-One sessions with businesses to discuss specific transactions with Afreximbank and Oakwood Green as well as pre-arranged On-the-ground uploads onto MANSA KYC Repository for members of the Ghana Export Promotion Authority (GEPA), the Ghana Free Zones Authority (GFZA) and the Ghana Stock Exchange (GSE).


July 1, 2022 for the Banking and Finance Community ie: The Central Bank, all Commercials Banks and Non-Bank Financial institutions in Ghana.


Afreximbank is the foremost pan- African multilateral financial institution devoted to financing and promoting intra-and-inter-African trade. Established in October 1993, the bank is a product of African governments, under a charter with its headquarters in Cairo, Egypt. The bank offers a range of financing programmes, solutions and advisory services to support the expansion, diversification, promotion and development of intra-African trade and trade development project.
The services provided by Afreximbank, are the main prerequisite for vital investment that can really translate into sound economic growth, saying it is worth noting that, trade and project financing initiatives positively impact trade and project financing initiatives, trade and economic development across the African continent.
Oakwood Green Africa (Oakwood Green) is a growing Pan-African institution fueled by a passion to enable greatness across Africa.
It has strategic investments in intra-Africa trade, capital and finance, knowledge capital, productivity enhancement and business acceleration and technology.
Oakwood Green is helping to change the African narrative for the better by leveraging partnerships and synergies across a wide network of regional and international institutions.